In an increasingly digital world, the landscape of counseling and therapy has evolved, offering new avenues for couples to seek help and enhance their relationships. Virtual counseling, also known as online couples therapy, has gained popularity due to its accessibility, convenience, and effectiveness. This blog explores the numerous advantages that virtual counseling brings to couples looking to strengthen their bond and overcome challenges.
Convenience and Accessibility
One of the most significant advantages of virtual counseling for couples is the convenience it offers. Traditional in-person counseling can be challenging due to scheduling conflicts, transportation issues, or even geographical constraints. Virtual counseling eliminates these obstacles, allowing couples to engage in therapy from the comfort of their own homes or any location with an internet connection. This level of accessibility makes it easier for busy couples to commit to regular therapy sessions, fostering consistent progress.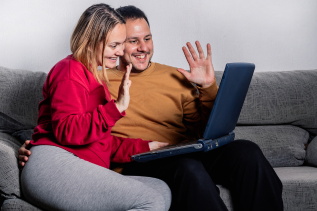 Flexibility of Scheduling
Virtual counseling offers flexibility in scheduling that traditional counseling may not provide. Couples often juggle demanding work schedules, family commitments, and other responsibilities, making it difficult to find mutually available time slots. With virtual counseling, couples have the option to choose from a broader range of appointment times, including evenings and weekends, making it easier to find a time that works for both partners.
Comfortable Environment
Being in a familiar environment can contribute to a sense of comfort and openness during counseling sessions. Virtual counseling enables couples to engage in therapy from the comfort of their own homes, reducing the anxiety that can sometimes arise from visiting an unfamiliar office. This comfort can lead to more honest and candid discussions, helping couples address underlying issues more effectively.
Privacy and Anonymity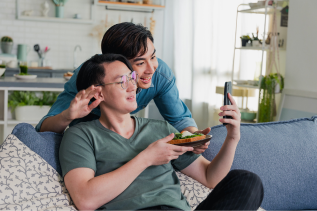 For some couples, the idea of discussing personal and sensitive matters in a face-to-face setting can be intimidating. Virtual counseling provides a level of anonymity that can encourage individuals to share their thoughts and feelings more openly. This can be particularly beneficial when discussing sensitive topics or addressing issues that may carry stigma.
Katie Clay at Water's Edge Counseling
Our licensed Professional Counselor Katie Clay, MA possesses experience in working with military personnel and their families, offering couples, family, and individual counseling. She has engaged with families affected by the foster care system in Macon. She is trained in several trauma-informed therapy interventions, including Trauma Focused Cognitive Behavioral Therapy and Prolonged Exposure Therapy.
Katie is one of Water's Edge Counseling's premier couples counseling therapist due to her high satisfaction rate. Katie uses tools that many other therapist don't and in turn, she gets results.
Technology-Enhanced Tools
Virtual counseling often incorporates technology-enhanced tools such as video conferencing, chat platforms, and even apps designed to improve communication and intimacy. These tools can facilitate homework assignments, communication exercises, and interactive activities that are tailored to the couple's needs. The integration of technology can make the counseling experience more engaging and dynamic.
Start Receiving Support From Therapists in Savannah, GA
Post-covid you may have forgotten that virtual counseling was still an option for you. Whether you're away on business, feeling under the weather or just embarrassed to see someone you know (Savannah is a small town), you can still seek treatment.  If you're interested in couples counseling, please connect with a professional counselor at Waters Edge Counseling. Our team would be honored to offer support from our Savannah, GA-based practice. You can start your therapy journey by giving us a call at 912.319.5552 or emailing us at [email protected]. 
Other Services Offered With Waters Edge Counseling
We understand that you may experience issues with more than one mental health concern at a time. This is why we are happy to offer support with a variety of mental health services. Our team is happy to offer support with multiple mental health services including online counseling, clinical supervision, coping after a cancer diagnosis, and SCAD student counseling. We are also happy to offer therapy for anxiety, depression, eating disorders, substance abuse, teen substance abuse, and counseling for men. In addition, we also offer counseling for teens, child counseling, family counseling, Christian counseling, grief counseling, and marriage counseling.
Please noteWhile this blog is designed to help people achieve their goals, the information within each post is not a substitute for therapy or medical advice given by a licensed professional.