So, what is the Counseling Compact (C.C.)? There are some exciting things going on in the world of counseling, and this is one of them!  As Georgia residents, we are super proud, as Georgia became the first state to pass the Counseling Compact Bill on March 23, 2021.
What is the Counseling Compact?
This contract is an interstate compact. Professional counselors who are licensed and residing in a compact state will be able to practice counseling in other compact states. And without the need for multiple licenses.  This is similar to existing licensure compacts for nursing, psychology, medicine, physical therapy, and emergency medical services.  The C.C. is operational when 10 or more states enact the legislation for the compact.

What are the benefits of this contract?
Counseling Compact increases client care. It also continues the continuity of care when clients move or travel.  In addition, it helps to certify that clinicians have met acceptable standards of practice.  Furthermore, the compact  promotes cooperation, in the areas of licensure and regulation, between compact states.  It also offers a higher degree of consumer protection and safeguarding across compact state borders.
What Impact will the Counseling Compact Make?
C.C.'s most important impact is that it allows counselors to offer both face to face and telehealth counseling across compact state lines. And to do this without having to be relicensed in another state.
For example, a clinician often gets licensed in one state and then relocates to another state.  As of now, their license is not recognized in their new state, and the counselor has to go through the entire licensing process again.  This is expensive and time consuming as the clinician seeks to gain enough supervised hours to become licensed, when they have previously been fully licensed in another state.
Additionally, if a client relocates to another compact state and wants to continue telehealth counseling sessions with their current provider, they may legally do so through this bill.  Currently, if a client relocates, they are advised to find a new therapist in their new location. Then they have to begin the process of building rapport with a therapist all over again.
This contract benefits military families and other individuals who relocate frequently, as they will be able to continue therapy with the same therapist, even after they move.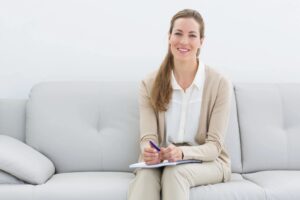 When will this Bill take Effect?
Georgia was the first state to pass the C.C. in its legislature this past March.  The bill is now on the way to the Governor for approval in Georgia.  Currently, Maryland and Nebraska have bills waiting for vote, and Tennessee has a bill being drafted at the committee level.
North Carolina and Delaware legislators are working on writing more of these bills.  Many predict and hope that the Counseling Compact may be fully ready to go into effect as early as 2022.  This is great news!
If you would like more information about the Counseling Compact, you can click HERE.
If you are currently looking for a therapist, the team at Waters Edge Counseling has daytime, evening, and Saturday appointments available and would love to work with you.  Our team specializes in everything from anxiety and depression, to eating disorders and addictions.
We serve young children and teens all the way through elderly adults.  Give us a call at 912-319-5552 or utilize our online scheduling tool if we can help.  We are here for you!