CURE & Waters Edge Counseling. Our practice is so proud of our partnership with CURE Childhood Cancer. With September being Childhood Cancer Awareness Month, there's no time like the present to talk about counseling for cancer patients and their families.
CURE & Waters Edge Counseling
Quality mental health care is essential for the treatment and well-being of oncology patients and their loved ones. According to the American Childhood Cancer Association, approximately 1 in every 285 children in the US will receive a cancer diagnosis.
Furthermore, cancer is the leading cause of death by disease in children in our country today. Because cancer is so prevalent and affects so many families in our community, we are honored to be able to partner with CURE to provide individual and group counseling to childhood cancer patients and their families.
CURE and the Numbers
Research shows that 1 out of every 3 individuals who undergo cancer treatment experience mental or emotional distress. This ranges from depression to anxiety, and for many includes Posttraumatic Stress Disorder (PTSD). In fact, 75% of youth who undergo treatment for cancer experience PTSD during and after their treatment.
The symptoms of PTSD include nightmares, flashbacks, a desire to avoid people, places, or things associated with the experience, a difficulty in feeling emotions, feeling helpless or distant, and feeling anxious or easily startled.
Another side effect of cancer treatment that affects mental health is what is called "chemo brain." Chemo brain is a condition that causes fogginess, fatigue, jumbled thoughts, and even depression. Chemo brain affects both adults and children undergoing chemotherapy, leaving them confused, emotional, and exhausted.
Even the period following cancer treatment can be filled with a variety of mental health issues. When looking at cancer survivors, 25% experience depression and 45% deal with heightened anxiety.
Dealing with Cancer and Mental Health
While research has been clear in proving that those with cancer are at risk for mental health issues, it has also shown us that treating these issues with therapy has lasting positive effects. One study conducted on a population of women with breast cancer found that women who worked through their emotions in a counseling group had a 45% lower risk of the cancer returning compared to those who did not. These women also had a 56% lower chance of dying from breast cancer. This is just one of many studies that shows the strong correlation between our mental and physical health.
Mental health care is a critical component of care for those dealing with cancer, during and after treatment. Through our partnership with CURE Childhood Cancer, our therapists are committed to helping children and teens who are undergoing cancer to work through the mental and emotional side effects of their treatment.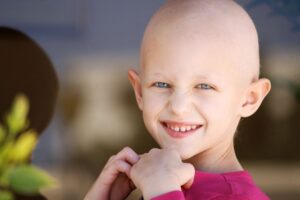 How Waters Edge Can Help
Our therapists are skilled in working with children and adolescents to offer them the emotional support they need as they process all that they are experiencing. The effects of cancer are far reaching, also causing depression and anxiety for parents, siblings, grandparents, and care-givers. Therefore, we are also committed to helping the families and loved ones of these oncology patients.
Almost all of us have been affected by cancer in some way, whether personally or as a result of a friend or family member's journey with cancer. The children, men, and women who battle cancer are truly heroes. At Waters Edge Counseling, we consider it a true honor to work with these patients and join with CURE Childhood Cancer in the fight against this disease. If we can help you or a loved one who is battling cancer, please reach out to us at 912-319-5552 or send us an email.