How to ease return-to-office anxiety. It seems like just yesterday we were dealing with the anxiety and schedule changes it took to adjust to working from home. COVID-19 hit us all hard, and most of us had to make major changes in our lives to continue doing our jobs from our houses instead of the office.
Now that many are fully vaccinated, and the world is opening back up – it's time for many to go back to the office.  That can come with its own set of anxieties. Here are some reasons why and some tips from Waters Edge Counseling on how to ease the anxiety of returning to the office.
Return-to-Office Anxiety
So why are some of us experiencing these anxious feelings upon returning to the office? Let's face it, it probably took months to adjust to working from home. So. Many. Questions. How do I schedule my time? Can I successfully interact with my team? What the heck is Zoom and how does it work? Even wondering how to dress…comfortable but professional? And now we're asked to do it all again – in reverse.
What are our anxieties and why?
Social Anxiety
When we were working at home, there were no rules on what to wear. There was also no need for awkward small talk and in-person interactions. We are out of practice.
Logistics
We became more flexible during COVID about our at-home schedules. Whether it was juggling family commitments or meeting a repair person – it was a bit easier to do from the house.
Professional Anxiety
The revised hybrid work models we got used to leave employees uncertain about how their choices are being perceived. By their managers and peers. Also how their amount of office time will impact their career and their families.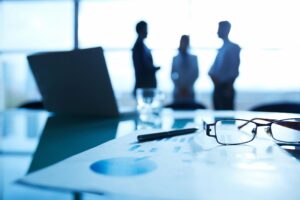 What can we do (as employers or employees) to ease return-to-office anxiety?
Communication
This is key. Communicating with your staff or superiors at work can alleviate a lot of the anxiety you may be feeling. We are all human, and we went through the pandemic together. Let's help each other out and talk it through.
Consider Returning to Work in Phases
This is more for the employers out there. If possible, try to give your employees and staff the opportunity to come back to the office in stages. This can help everyone ease back into a routine.
Meet Your Coworkers and Employees at their Comfort Levels
Each of us has dealt with this past year or so in our own ways. Some had major anxieties surrounding the pandemic. Some were very sick or may have even lost friends or loved ones. These things can have lasting effects on us. Be sure to be sensitive to each coworker or employee's particular emotional needs.
Celebrate the Joys of Being "Back"
There are so many benefits to being back in the office. That social interaction and camaraderie that we missed can be reestablished. We can start going to lunch again with our coworkers. We can have team meetings which can help improve the workplace as well as productivity.
Create Structured Team Events
It's a great idea to hold regular team events. They don't have to be the the generic happy hours. Instead, plan a structured activity that will help employees interact without the pressure of striking up a casual conversation.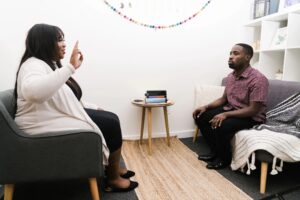 We are here to help
The team at Waters Edge Counseling is here to make the transition to going back to the office easier. We, too, are dealing with some of these same feelings. Besides that fact, our counselors are wonderful at helping you find ways to cope with your anxiety, depression and much more. Give us a call today at 912.319.5552 or email – we're here to help.